© 2020 Sea-Glass-Girl.com
All my sea glass is 100% genuine, beach combed, naturally surf tumbled by the ocean.

​​Please inquire about the availability of all jewelry, since they are all "one of a kind"​.

​


If you are interested in an item, please send an email to:


​​
2020 SPRING SALE

​
Scroll down for newer items ....​​​



FLAWLESS, VERY RARE TEAL SEA GLASS
On a piece of​ unusually heavy pitted piece of rocket debris I found on the beach near Wallops Island, most likely from the 2014 Antares explosion.
Sterling Silver rivet. Size​ 1 7/8L X 7.8W
On Sale now. $185​
MASSIVE RUBY RED FRESNEL LENS
May have come from an old Port-side Post Lamp
Wrapped in Sterling Silver
Sea Glass size 1 1/4" x 1 1/2" x 3/8"
On Sale now. $395​​​​
THE RAREST COLOR! RED – ORANGE
Flawless​ - may have been a fresnel lens
Wrapped with Sterling Silver
Sea Glass Size 3/4" x 1 1/8" x 3/8"
On Sale now. $198
HUGE, FLAWLESS MOSS GREEN BOTTLE BOTTOM
Wrapped with sterling silver filled wire​, Swarovski Crystals
Sea Glass Size 2 1/2" x 2 1/4"
On Sale now. $175​
CORNFLOWER BLUE, FLAWLESS SEA GLASS
Wrapped in sterling silver filled wire
Total width, assembled 3 1/4" x 3 1/2"​​
On Sale now. $219​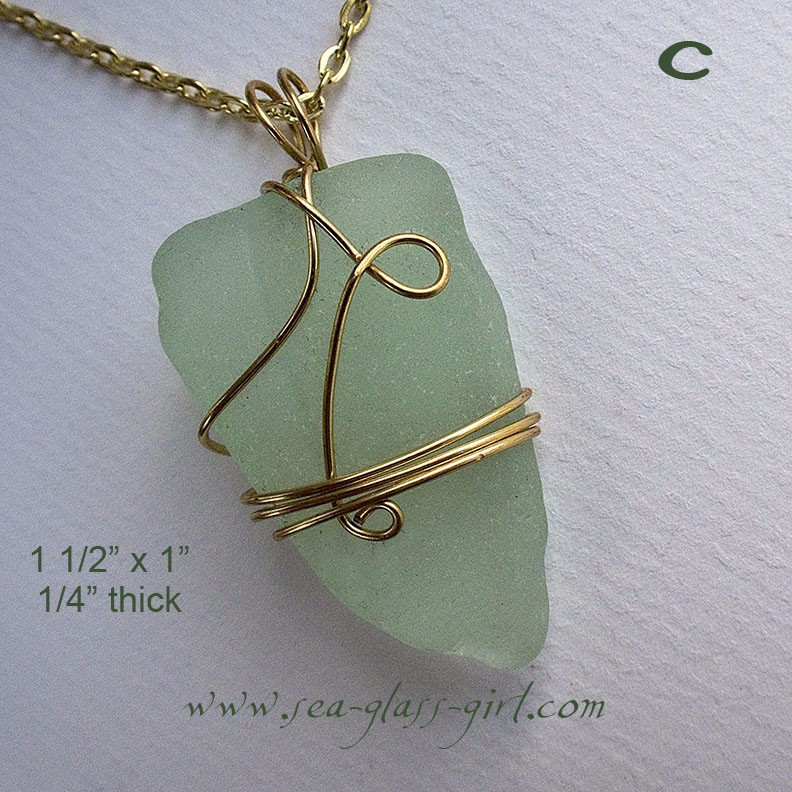 Huge, Thick, Flawless Sea Foam Green Pendants Wrapped in gold tone wire, 18"–20" chain included ... $35 ea
A HUGE, PERFECT BLUE
Super Rare, Large, Flawless 1940's Cornflower Blue
Swarovski Crystals, Sea Glass size 2" x 1 1/4" !!!
In sterling silver filled wire, Free 18" chain included... $149
Sea Glass size 2"x1"
Glass Bead, Sterling silver filled wire.
18" silver plated chain $36
Sea Glass size 1 5/8"x1 1/2"
Crystal Beads, Sterling silver filled wire.​
Free 18" chain $39.50
Sea Glass size 1 5/8"x1 1/2"
Crystal Bead, Sterling silver filled wire.​
Free 18" chain $39.50
Sea Glass size 1 5/8"x1 1/2"
Crystal Beads, Swarovski Star, SSF wire.​
Free 18" chain $39.50
Rare, Sea Foam Heart
Semi Precious Bead
#8538 – Glass size 1 1/8 x 1 1/84​
Free 18" Chain Retail $149 Now $98
Cat's Eye, Bronze
Sterling Silver Wire
Size: 2 1/4" x 1"​​ $69
Agate Beads
Sterling Silver Wire
Size: 2 1/4" x 1 1/4"​​ $69
Bronze
Sterling Silver Wire
Size: 1 3/8" x 2 1/4"​​ $69
Jasper, Sanddollar Charm
Brass Wire
Size: 2 1/8" x 1 1/4"​​ $69
Free chain included with all pendants​​​
Pendants made with Rocket Debris I found washed up on the beach
Large, thick Cornflower Blue 'USA'
Wrapped in sterling silver fille wire
Sea Glass Size 1 3/4 x 1 1/4 $78​​
Old Sea Glass, Freshwater Pearls, Swarovski Crystals sg size ~1" x 3/4"
​ SPECIAL, now only $49 each
Flawless Cornflower Blue Sea Glass
Special Sale $53​
Unisex Pendants on a Leather Cord
Titanium Rocket Debris found on the Beach
With Sterling Silver and Cornflower Blue Sea Glass $69